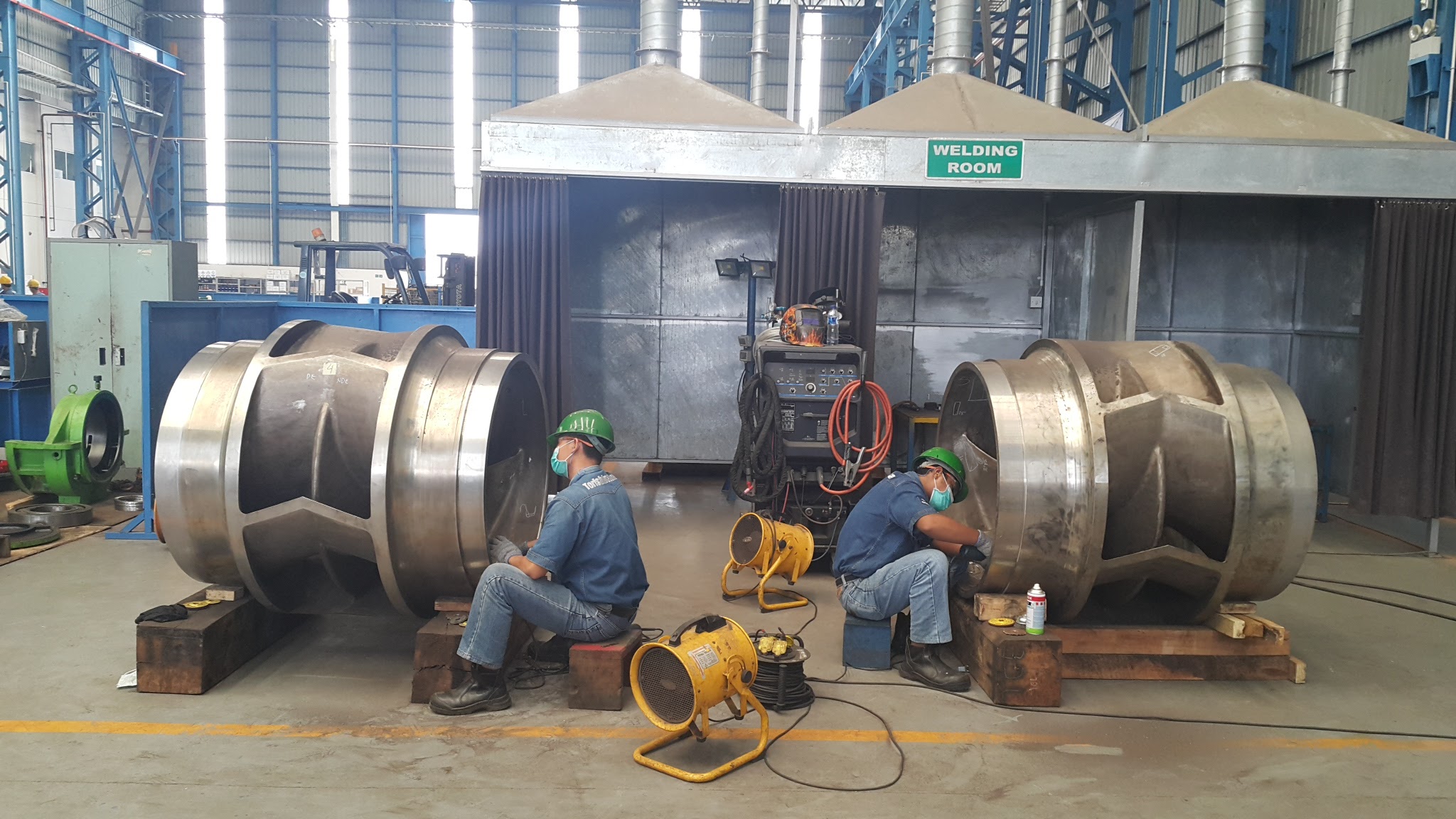 TURBOMACHINERY SERVICES
PT Torishima Guna Engineering builds The Turbomachinery Services Workshop which is located in MM2100 Industrial Area.

TGE Turbomachinery Services Workshop stands on :
- Land Area : 15,000 square meters, 1.5 hectars
- Workshop Space : 2,160 m2 (30m x 72m)
- Workshop : height 15 meters, effective hight 10 meters
- Office Space : 864 m2
- Overhead Crane Capacity : 40 T, to be upgraded to 50 T
- Electricity : 1 MW

FEATURES
Machinery (Main)
1. Balancing Machine : 32 T to be upgrade to 50 T
2. Horizontal Lathe Machine : Bed 12 m, Swing Over Bed 4 m

Equipment to be Serviced
1. Gas Turbines (Solar, GE & Aeroderivatives)
2. Steam Turbines
3. Driven Equipments : Generators, Compressors, Gearboxs
4. Pumps

Scope of Services in the Workshop
1. Balancing
2. Component Repair
3. Parts Fabrications
4. Exchange Program (for Solar Turbines)
5. Retrofit Control System

Maximum Capacity for Turbines
1. Rotor Weight up to 50 T
2. Max. Length 12 meters
3. Max. Diameter 3,8 meters

Maximum Capacity for Pumps
Power 15,6 MW

Rotating Equipment Services:
1. Installation & Commisioning
2. Operating & Maintenance
3. Overhaul and Repair on Site
4. Repair & Refurbishment
5. Upgrades or Modifications
6. Retrofit Control System
7. Preventive & Predictive Maintenance
8. Parts / Module Repair
9. Troubleshooting & On Call Services
10. Exchange Program for Solar Turbines

By building this Turbomachinery Services Workshop, Torishima Guna Engineering Company is expected to be the one of companies in maintenance and repairing rotating equipment with cost effective and excellent quality.


SERVICE WORKSHOP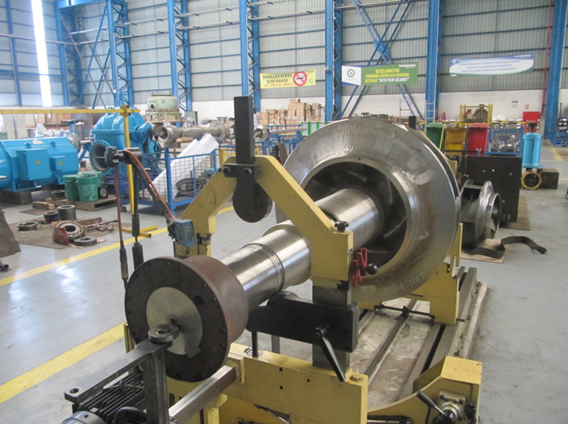 From 3 tons dynamic balancing up to 50 tons

Service Facility of Torishima Guna Engineering
Properly space & layout ; min 600 m2 / services shop. L : 54 m, W : 18 m

Torishima Guna Engineering facility consist of :

1. Dynamic Balancing , Max. Weight : 50 tons
2. Lathe Machine , Swing : 250 mm, Length Center : 700 mm
3. Horizontal Boring Mill (Line Boring), Table : 2000 x 2500 mm, X' Range ; 2500 mm, Y' Range : 2000 mm
4. Horizontal Lathe, Swing Over Bad : 1100 mm, Distance Between Centers : 5000 mm
5. Lapping Machine, Size : 25'
6. QC Area, Area : 6 m x 9 m, Consist of : Measuring Tools and Quality Tools
7. Panting Area, Area : 2 x 3 x 2.5 m
8. Straightening Equipment, Length : 4m, Load Max : 5 ton
9. Horizontal Hydraulic Jack, Pressure : 80 ton, Stroke : 300 mm
10. Vertical Hydraulic Jack, Pressure : 50 ton
11. Performance Testing Facility (owned by affiliated company, TGI)
Capacity : up to 7.200 m3/h, Pressure : up to 200 bar, Electricity : up to 1250 kVA
Hydrostatic Test : pressure up to 700 bar (10.000 psi)
12. Over Head Crane, MHG DEMAG, Load : 10 ton & 50 tons
13. Welding, Miller 200 A
14. Part Storage Area
15. Assembling
16. Ready Line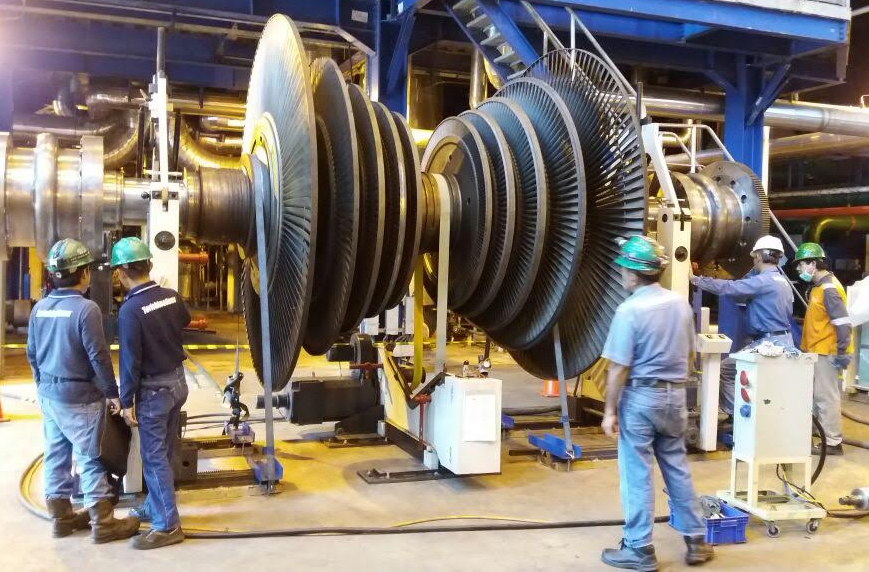 50 tons Balancing Machine


Pump Factory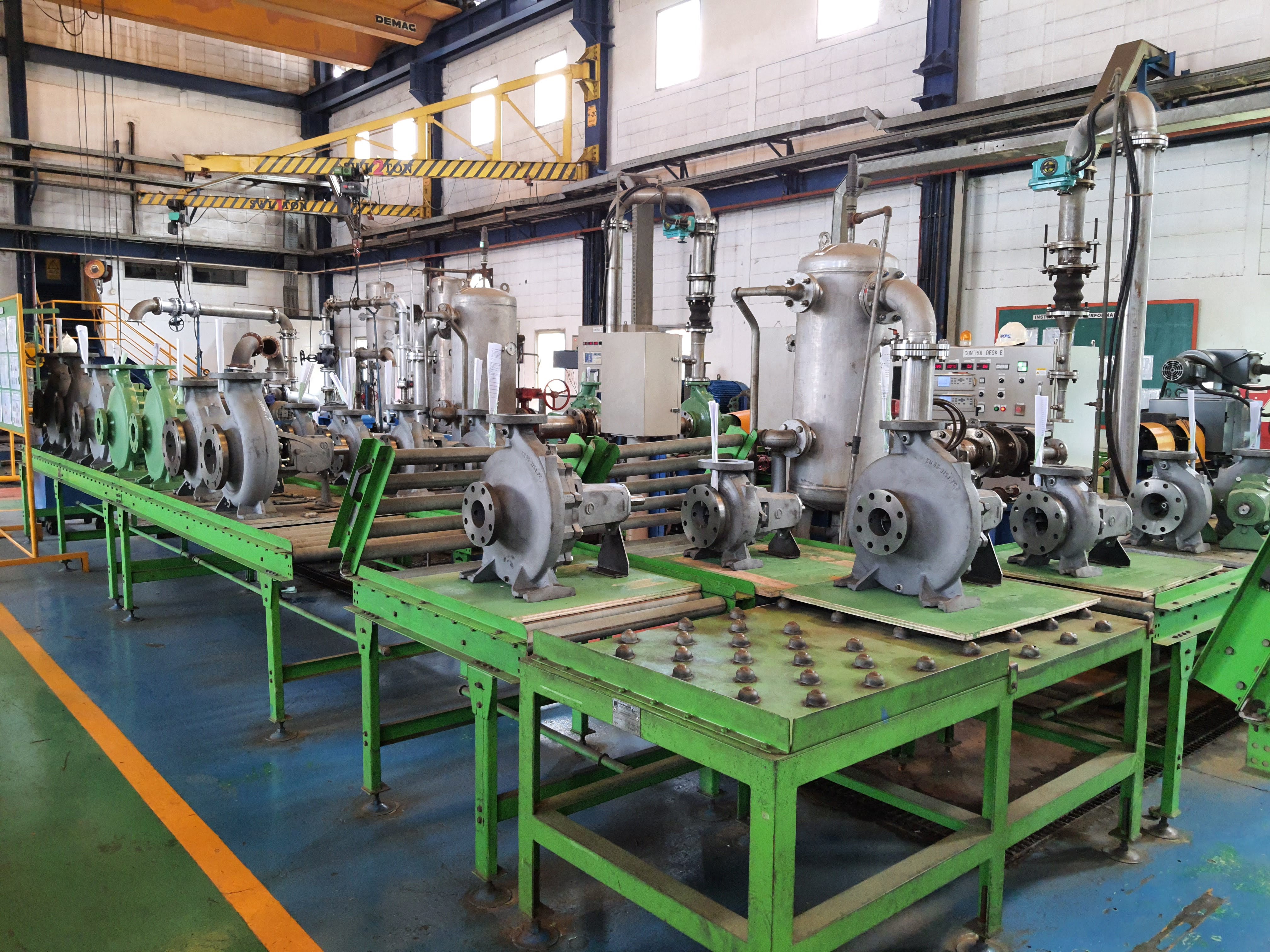 Test line of standard pumps

In the Industries known for its demand of excellent services, PT Torishima Guna Indonesia (TGI) as our affiliated company Holds great pride of being widely acknowledged as the reliable pump manufacturer. As a learning organization, our capabilities are strengthened with corporate culture in continuous improvement and a commitment to excellence.

TGI is certified ISO 9001 : 2008 and ISO 14001 : 2004 and by applying Total HES Management, Quality Management, TGI assures to protect and maintain a safety and healthy and always deliver excellent products and outstanding services.

Our solutions are engineered in response to the challenge of the industry. Bu using state-of-the art manufacturing facilities, TGI is capable of producing world-class industrial pump product ranges including End Suction, Multi-Stage High Pressure, Split Casing, Booster Set, Hi-Tech Pump and API 610th Edition Pumps.

With manufacturing depth starting from our own group casting process until finish pump, we have the total control over the products quality.

TGI has established strong sales and distribution network by building dealership and other sales channels, which in turn can serve all our customers' need. TGI is currently distributing both standard tailor-made industrial pumps not only in the Indonesian market but also throughout the South East Asia Region.

In compliance with Torishima's policy, we provide international warranty service that is provided for every product.

We realize that the cornerstone of our success lies in our total dedication to ensuring our customers' satisfaction. We are confident that, in an ever-changing environment, our flexibility in service approach, customer focus policy, extensive knowledge of the industry and dependability at all time will continue to position TGI as the industry's preferred business partner in pumps solution.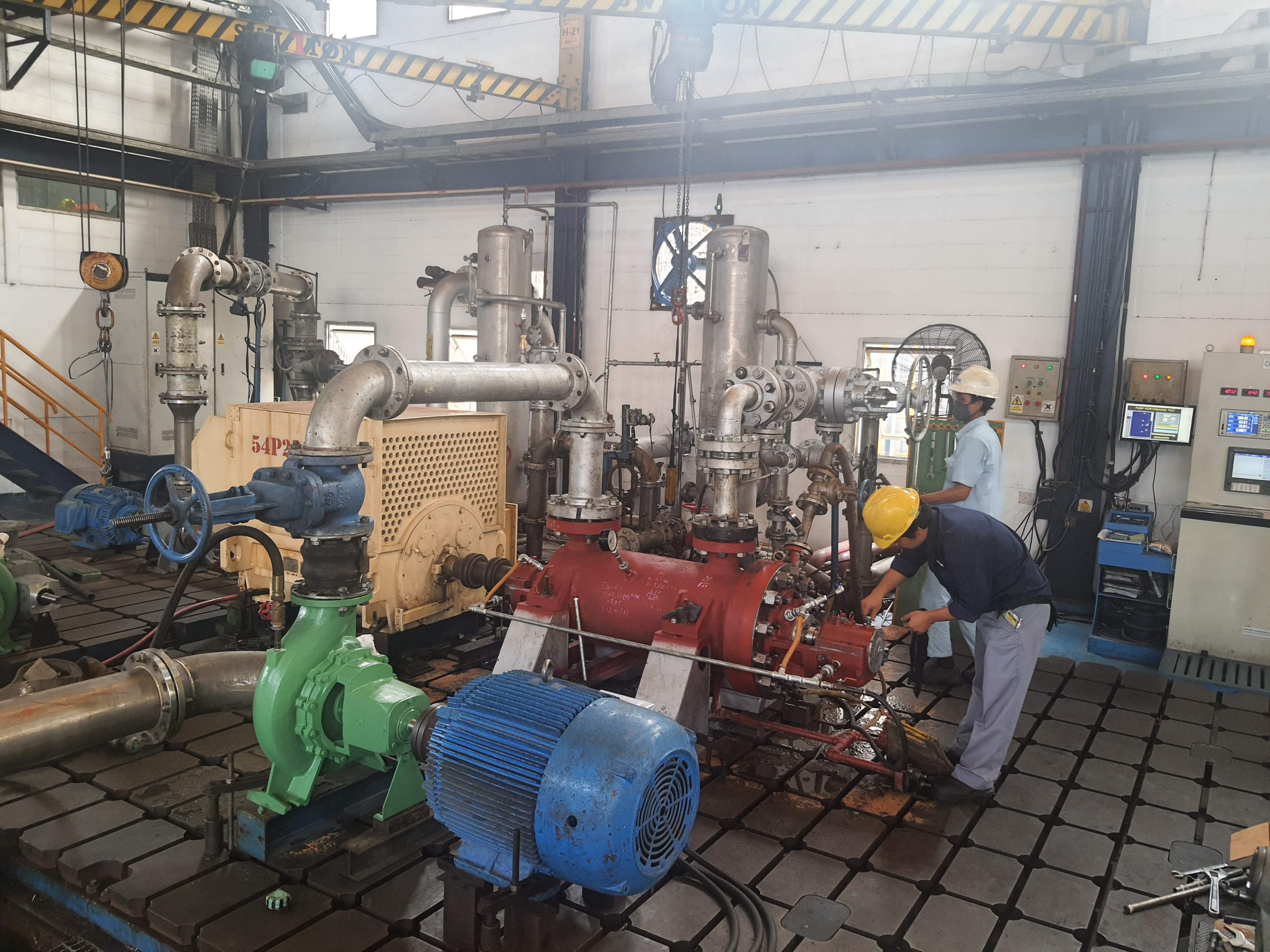 PUMP TESTING FACILITY
To capture the development of the market as well as to meet customer's demand, TGI continuously improve its capabilities in the area of pump production. One of our activities trying to increase our capability in the production of new generation of HI-TECH pumps, in particular pumps for power generations. Naturally such increase of production capability must also be completed with the capability to perform testing on such hi-tech pumps.

This Testing Facility owned by TGI will be able to test new generation of pumps, which have high capacity and pressure. Upgrading of test facility is required in order to continuously grow and to be in line with global technology improvement.

The Testing Facility comprises two piping systems :

- LOW PRESSURE FACILITY TEST ( LPFT )
- HIGH PRESSURE FACILITY TEST ( HPFT )

The selection of the testing system shall be based on the pressure and the flow capacity of the tested pumps. The facility is equipped with PLC system and control panel, connected to instrument and control valve installed on the testing facility. Pump testing process can be done automatically and all measurement data can be directly entered into pump data sheet required by customers. It will create a quick and efficient performance test process.

This facility is also equipped with Variable Speed Drive (VSD) as to make it possible to test pump powered up to 8MW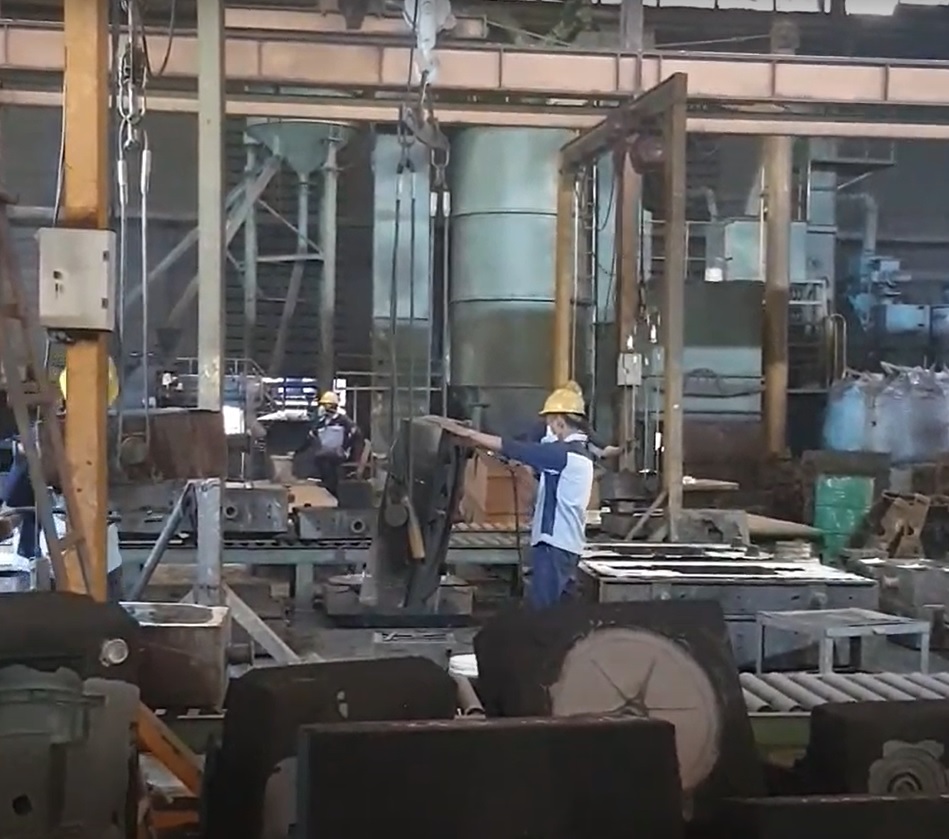 Casting/Foundry

PT Geteka Founindo, the high quality ferrous and non-ferrous foundry, is established to supply pump parts for Torishima in Indonesia and Japan.

However to fulfill the demand of highly complicated castings, we also supply "Original Equipment for Manufacturer" casting to other various industries such as Machinery Industry, Heavy Industry, Automotive Industry and Mould & Dies Industry.

Facilities

1. Pattern Shop
- Lathe Machine (Dia. 600 mm), Disc Sander (Dia. 1.000 mm), Cylinder Sander
- Drilling Machine (600 mm swing over), Band Saw, Planner, etc
- Material : Wooden Pattern, Epoxy Resin Pattern & Metal Pattern

2. Moulding & Core Making with FURAN Process
- Sand Mixer for Mould (cap. 10 Tons/hr & 5 Tons/hr)
- Sand Mixer for Core (cap. 5 Tons/hr)
- Shake out & Sand Reclaimer Machine (cap. 5 Tons/hr)

3. Melting
- Induction Furnace 1 x 1.000 Kg
- Induction Furnace 2 x 500 Kg
- Crucible Furnace 1 x 300 Kg (for Bronze)

4. Fettling & Heat Treatment
- Shot Blast Machine (cap. 2 Tons)
- Gouging & Welding Machine, Cutting & Grinding Machine
- Annealing Furnace (cap. 2.4 x 1.5 m x 1.0 m)

5. Laboratory
- Spectrometer for Chemical Analysis
- Computerized CE Meter
- Metallographic Microscope
- Hardness Tester (HB)
- Sand Tester (LOI, Sand Distribution, Compression Strength, etc)